Ever since Superman Returns came out and I've been dying to see it but between moving and taking care of baby Ali there was no way i could go. So last night my friend Shahara convinced me that i needed a break at least just for one night and mom didn't mind baby sitting for me. I'm glad i saw the movie it was AWESOME! just like i imagined it to be. True the plot was weak but i loved the way they stayed true to the original, there was one scene that was breathtaking (excellent graphics). What makes this movie even better is that it continued right after the previous movies so I'd suggest you'd see the first Superman (1978), Superman II (1980), Superman III (1983), and finally Superman IV: The Quest for Peace (1987).
The new and added romantic twist between Superman and Lois Lane was a bonus, made me speechless especially the flying scene *sigh*. My favorite actor Kevin Spacey as always did an excellent job in portraying Lex Luthor (still up to his crazy schemes). As for Brandon Routh oh my god talk about being sexy in a tight suit! 😉 and the resemblance to the late and beloved Christopher Reeves is uncanny, see what i mean

Christopher Reeves
Brandon Routh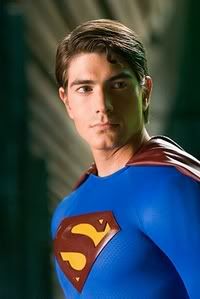 Brandon acting was superb for sure this movie will heighten his acting career. Overall Superman Returns had everything and much more and finally thanks to Bryan Singer for making this emotional and fantastic movie, i can't wait to see the next one, you MUST see it!
Rating: